Concert-mystery "Century-wolfhound that throws on my shoulders"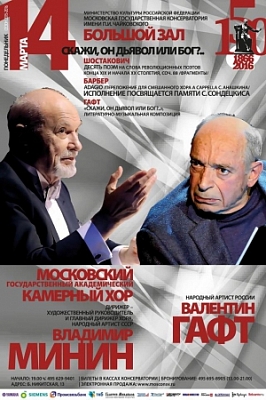 14 March 2016
The Grand Hall of Moscow State Conservatory | Bolschaya Nikitskaja street, 13/6
Playlist: Dmitri Shostakovich. Fragments from "Ten Poems on words of revolutionary poets of the late XIX and early XX centuries"; Samuel Barber. Adagio (S. Anashkin's arrangement for choir a cappella). Performance dedicated to the memory of Saulius Sondeckis.
Солисты:
Sometimes a paradoxical view from the past gives the opportunity to feel and comprehend the most controversial period of Soviet history, linked to the personality of Joseph Stalin, the scope and actions of this historical figure, so painfully dividing our society today, even 60 years after his death.

Poetic and musical composition, established by famous actor Valentin Gaft, legendary conductor Vladimir Minin, is a rare opportunity to hear the mystical dialogue of real people from the past with our contemporaries.

Moscow State Academic Chamber Choir,
сonductor - People's Artist of the USSR Vladimir Minin;

People's Artist of the RSFSR Valentin Gaft - artistic expression;

Soloists: Borislav Molchanov, Svetlana Nikolaeva, Sergey Godin;

Saxophone Quartet:
Leonid Drutin (soprano)
Eugene Krylevsky (alto)
Dmitry Sarasek (tenor)
Igor Gurevich (baritone)