Joseph Kobzon's Jubilee concert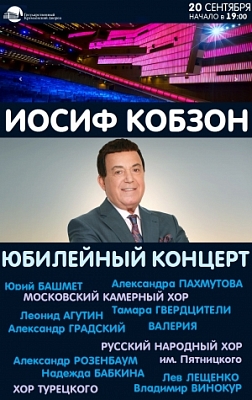 20 September 2017
The State Kremlin Palace | Moscow, Kremlin
Playlist: Officially, Jozeph Kobzon appears on the stage for almost 60 years from his 80. His repertoire has an incredible number of songs - more than 3000.
PARTICIPANTS:
State Academic Russian Folk Choir named after M. Pyatnitsky,
Vladimir Minin and Moscow State Academic Chamber Choir,
Art-group "Turetsky's Choir",
Academic Ensemble of Song and Dance of the Russian Federation National Guard,
Leonid Agutin, Alexander Rozenbaum, Valeriya, Tamara Gverdtsiteli,
Vladimir Vinokur, Lev Leshchenko, Nadezhda Babkina, Yuri Bashmet,
Alexandra Pakhmutova, Alexander Gradsky, Yulia Samoilova and others.
Official site of the State Kremlin Palace