Minin's Choir and Oleg Butman's Jazz Band performed "Misa Criolla"
23.12.2016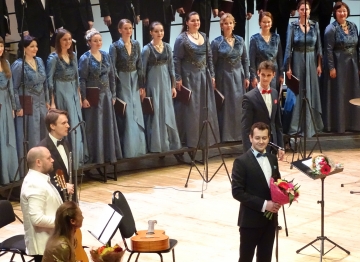 December 22, Moscow State Chamber Choir and its main conductor Vladimir Minin made the unusual New Year concert in the framework of the "Russian winter" arts festival in the P. I. Tchaikovsky Concert Hall.
VIDEO
The concert started with performing of G. Sviridov's
"Pushkin's Wreath"
concert (Minin's Choir was its first performer in 1979). The main number of the program was
"Misa Criolla"
(or "Creole Mass") written by the Argentine composer Ariel Ramirez. The work that based of folk and spiritual songs of South America, was performed together with Oleg Butman's Jazz Band (professional criticis recognize Butman as one of the most prominent jazz drummers of our time).
"Creole Mass" was composed in 1963-1964, during the Second Vatican Ecumenical Council, and it was one of the first music experiences to create a national mass in the history of Catholic church - not only on the living national language, but also using local musical genres and instruments.
However, exoticism was not over on that: there also was
"Brazilian Bachiana №9"
by Heitor Villa-Lobos, whose work is remarkable interweaving elements of Indian, African, Spanish, Portuguese and other European musical cultures. In his famous "Brazilian Bachianas" composer brilliantly realized his dream of a combination of classic and Brazilian folklore.
And finally, Minin's Choir prepared a little musical surprise for their listeners: ensemble of Choir's artists sang a few Barbershop songs and spirituals, as well as fragments from G. Gershwin's legendary "Porgy and Bess".
See you at our concerts in 2017!