Concert dedicated to Sviatoslav Richter's 100th anniversary and to the Children's Day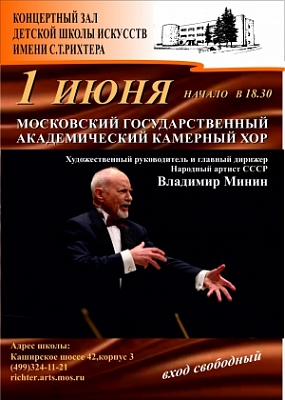 1 June 2015
Moscow | Sviatoslav Richter Children's school of arts
Project "Minin's Choir – for children"
Charity concert by Minin's Choir
Program: the works by S. Rakhmaninov, G.Sviridov, S. Barber, Russian folk songs
Moscow State Academic Chamber Choir
Artistic Director and Chief Conductor – Vladimir MININ
Conductor – Vladimir Minin
Alla Dubilier will lead the concert.
The Choir realizes the project "Minin's Choir – for children" during 7 years. Over these years Vladimir Nikolaevich and artists of the Moscow Chamber Choir arranged a lot of performances in SPC medical care for children "Solntsevo"; D. Rogachev Federal research and clinical centre of pediatric Hematology, Oncology and Immunology; Research institute of emergency children's surgery and traumatology headed by Leonid Roshal.
In children's medical centers, where the word "hope" has a special meaning, the music allows young patients and their parents at least for a time to forget about severe ailments, to feel themselves carefree and happy.
The project "Minin Choir — for children" has also another task: the education of a future listener. The Choir provides charity concerts in the Children's art schools in Moscow, in music schools and secondary schools, centers of advanced education.