Founder, Artistic Director (1972-2019), President
Vladimir MININ
Artictic director, conductor from 1972 to 2019
"Minin is not only a brilliant choirmaster, wielding the mystery of the human voice, a virtuoso conductor who is able to achieve a perfect ensemble, but, most importantly, a true artist, who thinks problematically, large and thoroughly at the same time, feels the proportionality of the proportions of the urgent and everlasting complex choral scores of both classical and modern music ... Minin never conflicts with the nature of a musical work, no matter where it is created. Just as the plant, so that it does not die, takes it with a piece of the mother's land, so Minin takes the work, without shaking off the soil of the culture and traditions that fed him, and "transplant" it to the Russian soil, under the fertile rains of the Russian choral school. And then the music of Vivaldi, Mozart, Rossini becomes not only a phenomenon of our life, but this phenomenon itself, by virtue of its originality, becomes a driving force in world art. " V. Gavrilin.
Artistic director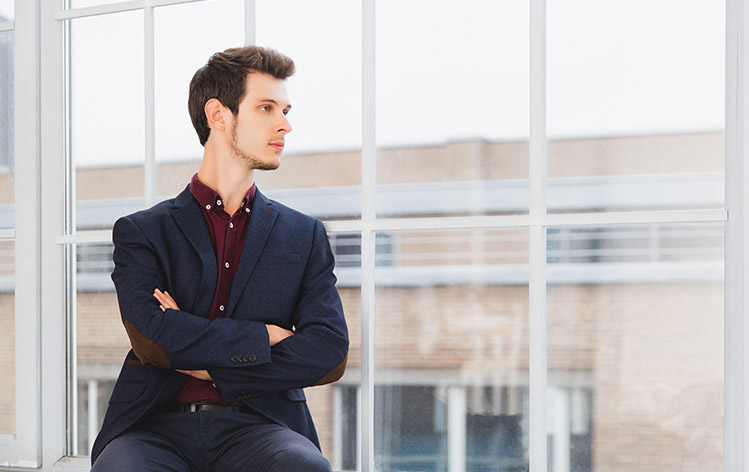 Timofei GOLBERG
Born in 1991 in Nizhny Novgorod, Timofei Golberg began to learn music when he was five.
In 2005 he graduated from the "Camerton" choral studio and enrolled in the Nizhny Novgorod Music College named after M. Balakirev to the department of choral conducting.
In September 2014 became the winner of the II degree IV at All-Russian competition of choral conductors named after V. Popov, in 2015 - winner of the I prize at II All-Russia Music Competition in the category "Choral Conducting" (Moscow), he also worked as conductor of the orchestra "Nizhny Novgorod Teachers".
Since 2016 - conductor of the Moscow State Academic Chamber Choir.

Our collective's full name is
The Moscow State Academic Chamber Choir,
but musicians and audience called us simple – "Minin's Choir". In these two words - the quintessence of more than four decades of Maestro Minin's tireless work.
Choir's repertoire includes works of different genres:
from folk songs to contemporary music,
from Baroque to popular musicals and operas.
Collective tours in Russia and in dozens of countries all around the world.
Premieres in each concert season.
Performing with the best orchestras, Russian and world opera stars.
Perfect artistic taste and stylistic precision!
Constant search and innovation!
The fifth generation of artists!
Moscow Chamber Choir's discography contains more than 30 albums.
In 2011, the broadcasting company NHK recorded the "The Liturgy of St. John Chrysostom" (2011) and "All-Night Vigil" (2013) and named these works reference.
Choir soloists
Vocal coach, Conductor, choirmaster and accompanist