Natalia Gerasimova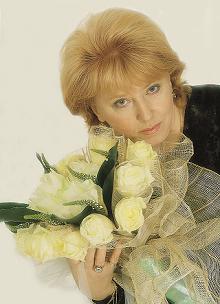 People's Artist of Russia, professor, soloist of the first Minin's Choir,
Honored Worker of Khanty-Mansi Autonomous District culture

Natalia Gerasimova joined Moscow Chamber Choir in 1971 – when she was a student of the Gnessin State Musical Pedagogical Institute (today - Gnessin Russian Academy of Music), whose rector was the Choir's founder Vladimir Minin.

In 1977, even before the final exam, N. Gerasimova enrolled to Bolshoi Theater trainee group. "Every Monday (in theater it was a holiday) I ran to Choir rehearsals in Znamensky Cathedral. In 1977 collective planned to tour in USA and Canada for two months. Vladimir Nikolaevitch proposed me to go, but Bolshoi Theater management won't let me, because I was barely six months after enrollment. That's the story about how I choose Choir ", - says N. Gerasimova.

For twenty-two years - from 1971 to 1993 - Minin's Choir was her home, her large family with unique relationships. In this period collective performed in USA, Canada, Mexico, China, India, Vietnam, Korea, Italy, France, Austria, Czechoslovakia, Bulgaria, Turkey, Poland, Denmark, Netherlands and other countries. She participated in the premieres of G. Sviridov's "Pushkin's crown" and "Night Clouds", V. Gavrilin's "Chimes". She also performed G. Rossini's "Little solemn Mass" with Elena Obraztsova at the Grand Hall of the Moscow Conservatory.

"What Minin do – that's considerably! His Choir is a real pleasure for listeners and absolutely unique school for singers. Vladimir Nikolaevitch is extremely demanding. Endless rehearsals! The main thing is work! You can't have some unimportant concerts. Professionalism and integrity are above all. This is the honest way, the only sure way in art", - says N. Gerasimova.

For many years singer performed with "Virtuosi of Moscow", A. Rudin's "Musica Viva", S. Sondetzkis' Chamber Orchestra of Lithuania; D. Bashkirov, I. Zhukov, V. Krainyov, V. Skanavi, N. Shtarkman; recorded six CDs with E. Svetlanov, worked at the Art-Center for Gifted Children of the North in Khanty-Mansiysk. Gerasimova's discography contains 40 LPs and CDS (17 of them – solo). Since 2014 Gerasimova works as a vocal coach of the Moscow Chamber Choir.