Edward Artemiev: 9 steps to TRANSFIGURATION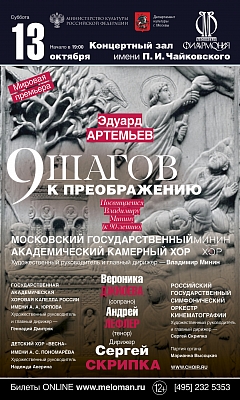 13 October 2018
Tchaikovsky Concert Hall | Triumphal Square 4
The world premiere of "9 steps to transfiguration" by Edward Artemiev. Created especially for Moscow Chamber choir. It will be perform with choir, symphonic orchestra, rock band and soloists. Dedicated to the Vladimir Minin.

Edward Artemiev best knows as a films composer (Mirror, Stalker, Solaris by Tarkovsky; Burnt by the Sun, The Barber of Siberia by N. Mikhalkov).

He started work on a "9 steps to transfiguration" in 80s after he heard latin prayers. In 90s Artemiev finished "Dies Irae", "Lacrymosa" and "Credo". After that composer had pause and restart his job at the end of 2017.