Bella Kabanova (soprano)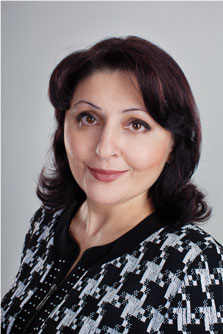 Honored artist of Russia

In 1988 Kabanova graduated from the State Institute of Theatrical arts named after Lunacharskiy (GITIS). Since 1995 she works in Moscow State Academic Chamber Choir. B. Kabanova has excellent singing qualities: bright tone, deep sound palette and perfect technique. She performs solo parts in large vocal-symphonic works, chamber music and a capella sketches.

Her parts in W. A. Mozart's "Requiem", A. Vivaldi's "Gloria", F. Schubert's "Mass" and G. Rossini's "Petite Messe Solenelle" received many rave reviews. Audience also remember her Brigitta in P. I. Tchaikovsky's "Iolanta" and G. Gerschwin's "Porgy and Bess".

With big success B. Kabanova performed solo parts from G. Verdi's "Requiem" and J. Brams' "Love Songs" at the Art Square festival (St. Petersburg). In seasons 2013/2015 and 2014/2015 Kabanova performed solo parts in G. Handel's "Hallelujah", fragments from S. Rakhmaninov's "Liturgy of St. John Chrysostom" & "Pushkin's Garland" by G. Sviridov.

Her solos often became semantic culminating moments in Moscow State Academic Chamber Choir's concerts around the world (Germany, Switzerland, France, Japan, China, Ukraine and more). B. Kabanova performed with many famous conductors such as V. Fedoseev, M. Pletnev, V. Spivakov, S. Sondeckis, Y. Bashmet. A. Katz, K. Orbelyan, M. Viotti, K. Nagano, W. Marshall and others.