Minin's Choir library enriched by the works of Anton Viskov
03.07.2015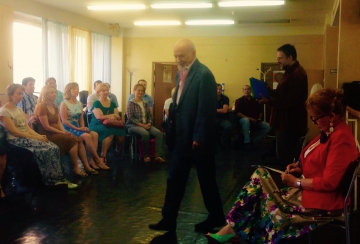 On July, 3, the famous church composer Anton Viskov congratulated Moscow Chamber Choir and artistic director Vladimir Minin with the end of the 2014-2015 concert season, and presented his works to Choir's library.
"Today, the Moscow Chamber Choir determines the development of singing art, as it operates continuously collate all the other teams. It is necessary that every artist knew what the responsibility entrusted to him - by the level at which the choir sings, determined by the level of our national art. I would like to convey my publication to the library and I wish you many years of existence. I'm always ready to cooperate and to provide my works",
- he said.
Anton O. Viskov (b. 1965) - author of more than 200 works in different genres, among which are large-scale cantata and oratorio works. Over the years, the composer conducts research work to restore lost or unfinished scores past masters (B. Kalinnikova, M. Mussorgsky, P. I. Tchaikovsky, A. Castalian, A. Chesnokov, G. Sviridov), has been studying the Russian folklore (folk songs, spiritual verses).
He is also the author of many cultural and educational projects concert ("Music Bible", "Music history of mankind," "The Mystery of Russian Choral" and others), lecturer and radio host. He was awarded the medal "For Services to the Fatherland" II degree, letters of commendation of His Holiness Patriarch of Moscow and All Russia Alexy II.