New Moscow Chamber Choir CD is out now
17.07.2015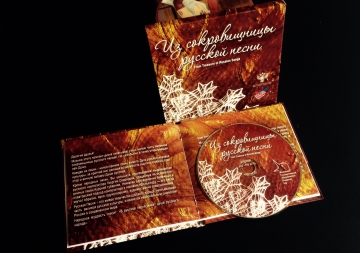 On July, 17, Minin's Choir has received copies of the new disc –
"From treasury of Russian song"
, that was recorded in December 2014 in the State House of broadcasting and recording.
Music on this CD covers only a small part of the Russian songs treasury that reveals to us its Soul – so original and subtly. Each song is a unique facet of Russian choral music's living Spirit. For a brief moment, it's giving the opportunity to experience the depth, vastness and eternal riddle of Russian soul.
In addition to folk songs, You will hear works written by the outstanding Russian composer Georgy Sviridov, that was created on the basis of ancient songs of Kursk province. Composer's gentle and innovative approach to choral folklore is truly unique - his songs are shaped, bright, spiritually and artistically perfect. Russian song is a living creation of the Russian people and integral part of the great Russian culture, it is a national symbol of Russia in the modern world.
Popular wisdom says:
"The Soul of the Russian people lives in Russian songs".
This programme was recorded with National Academic Orchestra of Russian Folk Instruments named after N. P. Osipov (art director - Vladimir Andropov). Sound engineer - Paul Lavrenenko.