Minin's Choir won the International Church Music Festival
23.05.2016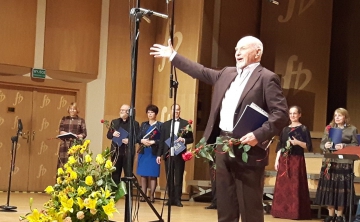 In mid-May 2016, Moscow State Chamber Choir went to a concert mini-tour, during which addressed the Russian Embassy in Poland, gave a concert in the Evangelical Church and participated in XXXV International Festival of Church Music "Hajnówka 2016", where took first place among professional choirs.

The prestigious competition, held annually in the Polish Bialystok, participated three dozen teams from different countries, from Australia to the United Arab Emirates. Apart from Russia in the festival also participated Choir Academy of Music, Moscow musical-choral school "Radost'" and Novgorod Choir Children Choir.

According to the director of the collective Alla Dubiler, the choir was very impressed with the festival: "This is probably the only place in the world, related to art, where nothing but the level does not matter There was not the slightest hint of the difficulties that are now. exist". Minin's Choir was greeted with shouts of "Bravo!", and after the last note has sounded the whole audience gave a standing ovation.

According to Vladimir Minin, "The language of music is invaluable in that even when the product sounds in another language, if the performance resonates in the hearts of listeners, made the most important mission of art, uniting people and helping to establish a dialogue".

"This distinguished team presents their art for over forty years, as a messenger of Russian culture, and making a significant contribution to international humanitarian relations, the strengthening of mutual understanding between the peoples of Poles have always valued the Russian choral art." - Otsetil in his welcome address, the First Deputy Minister of Foreign Russian Minister Vladimir Titov.