Minin's choir continued the good tradition of helping SPC "Solntsevo"
02.06.2016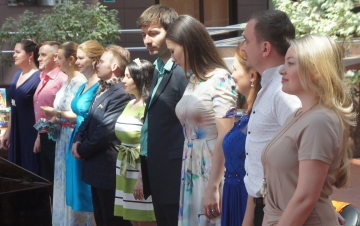 In June, 1, the International Children's Day, Moscow State Academic Chamber Choir made a charity concert at the Scientific and Practical Center of medical care for children "Solntsevo".

Artists brought to their youngest audience a musical gift - a favorite children's songs from movies and cartoons, which in this day everyone could sing along. Not all the kids were able to get to the concert for health reasons, but they were able to hear Minin's choir on the radio, without leaving their rooms.

Being away from the professional concert halls, playing not very usual repertoire, involving kids in a theatrical performance, Moscow Chamber Choir artists once again demonstrated the highest professionalism and, in a sense, feel children themselves. Bright costumes, dances, games ... Artists brought into SPC "Solntsevo" not just a songs, but a piece of a really happy childhood, in which there is no place for pain and sadness.

Traditionally, the team arrived with gifts – children not only listen to the concert, but also felt the warmth of human sympathy. Nobody feel deprived.

"Our team has done it great! So much happiness they gave to mothers, grandmothers, doctors, sisters, attendants, who always protect children! In the children's cancer center... there is no greater happiness to see how glad these such an adult children eyes...", - Moscow Chamber Choir's director Alla Dubiler said.

Vladimir Minin: "It's a big joy for us to see children and parents smiles, we are happy to sing for them, communicate with them... Their applauses are very special". The entire staff of the Moscow Chamber Choir agrees with artistic director - for performances held in the framework of "Minin's Choir for children" project, artists prepared especially responsible.

Over the years, Vladimir and artists of the Moscow Chamber Choir performed numerous times in medical care for children SPC "Solntsevo"; Federal Research and Clinical Center of Pediatric Hematology, Oncology and Immunology named after D. Rogachev; Research Institute of emergency children's surgery and traumatology of Leonid Roshal, State Museum of Contemporary Art of the Russian Academy of Arts, the exhibition "The Art of Being next to." The team performs with a free concerts at the Moscow children's schools of arts, children's music and secondary schools, centers of additional education.