Dmitri Shostakovich's 100th Anniversary
20.09.2016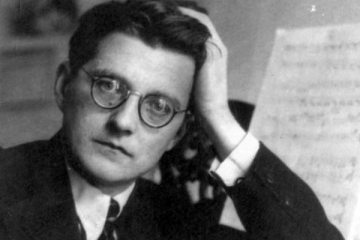 On September, 25, the day of Dmitri Shostakovich's 110th Anniversary, "Helikon-Opera" theater will show the concert program
"Shostakovich instead the muddle"
. It's a play on words in relation to the fateful article "Muddle Instead of the Music", published in the "Pravda" newspaper (1936) and became a serious blow to the composer, twho was actually banned.
People's Artist of the USSR Vladimir Minin and the Moscow State Academic Chamber Choir under his direction will be the special guests of the evening. Renowned musicians will present some fragments from the
"Ten Poems on words of revolutionary poets"
choral cycle. For the Moscow Chamber Choir this date is particularly important - drive with this rare work of the choir Minin was released in mid-September, and was present at the recording of the composer's widow, Irina Antonovna, expressed the opinion that it will be "...a benchmark for future artists creativity of Shostakovich".
For the first time on the stage of "Helikon-Opera" will be presented a stage version of the satirical cantata
"Anti-formalist little heaven"
(for four basses, narrator and choir) - the only major works by Shostakovich on his own text, which became caustic response to accusations opponents in the anti-popular and formalism. On stage there will be the leading bass theater Honored Artist of Russia Mikhail Guzhov, Alexander Kiselyov, Dmitry Skorikov and Grigory Solovyov.
Song cycle
"From Jewish Folk Poetry"
- eleven "alive dramatic sketches" in Mussorgsky's traditions, will be performed by the Honoured Artist of Russia Larisa Kostiuk, Igor Morozov and Anna Pegova. Completed a program of monumental vocal-symphonic poem
"The Execution of Stepan Razin"
(on the words of Eugene Evtushenko (soloist - Dmitry Skorikov). The concert involved the choir and orchestra of "Helikon-Opera" Conductor -. Valery Kiryanov, director - Ilya Ilyin.
Theatre "Helikon-Opera" under direction of Dmitry Bertman ("Stravinsky" Hall)
Nikitskaya street, 19/16, p. 1
Beginning at 16:00
Accreditation:
E-mail:
pr.helikon@gmail.com
Tel .: +7 (495) 691-84-74
Contact: Roman Nagin, Svetlana Gorodova