Minin's Choir will perform Rachmaninoff and Kancheli in Estonia
29.09.2016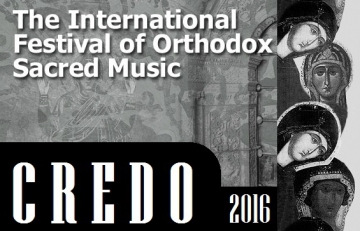 On October 9 Moscow Chamber Choir will perform in Estonia in the framework of the 21st International Festival of Orthodox Sacred Music
CREDO
accompanied by the saxophone quartet
"Quattro Quarti"
.
Performance will be held with the support of the
Moscow Department of Culture
.
The concert program will include excerpts from Sergei Rachmaninoff's
"Liturgy of St. John Chrysostom"
, in which he boldly joined intonations of folk and professional art, creating a spectacular image of the ancient cult singing; Gia Kancheli's
"Amao Omi"
( "The war is meaningless") and the famous
"Adagio"
by Samuel Barber, recognized by critics as one of the best music of the second millennium, arranged for choir a capella.
CREDO
Festival, which began in 1994 as a sort of musical offering for the Feast of the Nativity of the Virgin and designed for connoisseurs of Orthodox singing, has long been a significant development of musical life in Estonia.
Traditionally open to the church and monastery choirs, professional performing Orthodox music for secular professional choirs, having in its repertoire of spiritual works, as well as for children's teams of high performing level, CREDO Festival today can rightly be considered the musical event of the European scale.
ESTONIA CONCERT HALL
(Estonian Ave. 4, Tallinn, Estonia)
19:00
www.festivalcredo.com
Tallinna postkontor Box 3455, 10506 Tallinn, Estonia
Tel: (+372) 513 22 13
Tel./faks: 64 55 197
E-mail:
credo@festivalcredo.com