Moscow Chamber Choir opened its 46th concert season
13.10.2017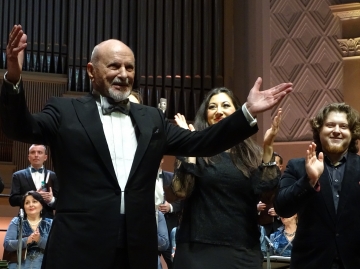 The "Petite Messe Solenelle" ("Little Solemn Mass") was performed at the Tchaikovsky Concert Hall in Moscow. With this work of Gioacchino Rossini, Moscow Chamber Choir directed by Vladimir Minin opened its 46th concert season.
"It's been 150 years since Rossini wrote this music, and it is not obsolete at all, and it gives pleasure to both performers and listeners", - says conductor, People's artist of the USSR Vladimir Minin.
The composer himself called this work his "last mortal sin" and until the end of his life he was tormented by the question, what music he wrote: angelic or diabolical? By the way, the mass was not recommended at first for execution in the cathedrals. And it's not in its content, but in the fact that among the performers there are women who then were not allowed to sing in the church. For a long time the work was perceived by critics and the public is ambiguous, today it is considered one of the tops of the composer's creativity.
https://tvkultura.ru/article/show/article_id/195346
VIDEO
VIDEO (REHEARSALS)
PHOTO
PHOTO (REHEARSALS)