Moscow Chamber Choir's new house
17.10.2017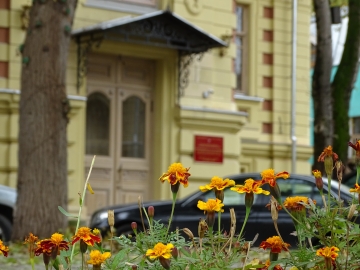 Back in 2002, "for outstanding achievements in the development of the choral art," the Moscow State Academic Chamber Choir for the conduct of rehearsal and concert activities was given part of the XIX century manor. to the address: Moscow, st. New Basmannaya, 22/2, building 1.

The building is unique. Once the mansion belonged to Vera Kholodnaya, the star of silent cinema, and today has the status of a monument of cultural heritage. For the full-fledged work of the choir and the Cultural Center of Vladimir Minin, it was necessary to conduct repair and restoration works of the manor building, which lasted almost 16 years...

The building, which now houses the Moscow Chamber Choir, was built in 1895 by the order of the well-known industrialist and entrepreneur Ivan Prove. The main house with two symmetrical wings was designed in the style of French neo-Renaissance and was intended for the children of an entrepreneur - twins Fedor and Adele.

Of course, over the years of oblivion, the interiors of the building and all life support systems came to a complete decline, and the restoration work for a long time was burdened by legal litigation with dishonest "service providers" who won a tender for repairs.

Now this is a completely restored building, with a beautiful acoustic hall. The architectural-stucco decoration was restored, the gilding of metal surfaces was made with gold leaf. The building boasts an antique lining of fireplaces, pilasters, marble surface finish, oak doors, antique handles.

The long-awaited move of the choir, which celebrated its 45th anniversary in 2017, will be held at the end of October 2017. The premises of the mansion on Novaya Basmannaya were decided not only for rehearsals, but also as a Chamber Hall for concerts, musical evenings, exhibitions.

On November 2, 2017, the solemn opening of the estate and "FRIENDS BALL" in the Cultural Center "MININ-CHOIR" will take place. The celebratory concert will be attended by the stars of the world opera scene, brilliant musicians who have appeared on stage with the famous collective. Among them are such artists as Tamara Gverdtsiteli, Agunda Kulaeva, Aleksei Tatarintsev, Alina Yarovaya, Alexander Gindin, "Virtuosos of Moscow" and others.

Follow the ads on our website and in social networks.