R.I.P.: Montserrat Caballe
07.10.2018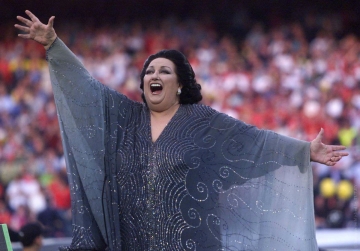 The famous opera diva died in Barcelona at the age of 85 Montserrat Caballe was the queen of belcanto, who received the prefix "La Superba", which means "excellent" from her fans. The causes of death are not reported, but it is known that in September, Montserrat was sent for an opportunistic
screening at the San Pau clinic in Barcelona.

Montserrat Caballe began to study music at the age of 7 years. At nine she was admitted to the College of Music at the Gran Teatre del Liceu. Nearly 10 years after his graduation, Montserrat made her debut on the stage in Richard Strauss's opera Arabella. Three years later, the singer performed at Carnegie Hall in New York at the Donizetti opera "Lucrezia Borgia". This was her first international success.

Montserrat Caballe performed with many vocal stars, including Luciano Pavarotti, Placido Domingo and Freddie Mercury. The latter considered Caballe "one of the most beautiful women in the world" and wrote a song about her hometown at the request of the singer. The song "Barcelona", which they sang as a duet, became the hit and hymn of the Olympic Games in 1992 The Moscow Chamber Choir of Vladimir Minin, once shares the stage with Montserrat at the Valery Gergiev Easter Festival and joins in the condolences over the death of the great singer and the great voice of the twentieth century.