Dmitri Shostakovich. Ten Poems (2015)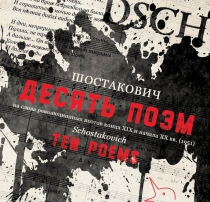 05.04.2016
Dmitri Shostakovich (1906-1975)
"Ten Poems on texts by Revolutionary Poets"
Op. 88 (1951) for chorus a cappella
Shostakovich's "Ten Poems"
is a work that standing on a par with other works emerged at the turn of the 1940s-1950s, when composer, along with other prominent artists, was forced to adapt to demands of Stalinist regime.
In this innovative cycle Shostakovich appealed to the Russian revolutionary folklore, with whom he had known since childhood. "I don't know to what extent I was able to convey the spirit of the era, - the author confessed. - But the huge impression, which always came to me from Russian revolutionary songs, could not but reflect on the music". Texts of choral poems belong to a little-known poets of late XIX - early XX centuries.
"Ten poems, opus 88" (1951) was the first composer's appeal to chorus a capella. Before us appears a completed picture of 1905 year events, in which human destinies are inseparable from the destiny of all Russian people. Drama of the cycle is based on the interweaving of personal and mass images, where parts are often involved in the development of a single current, creating a genuine symphonic picture.
Premiere of this work took place in October 10, 1951, in the same year Dmitry Shostakovich was awarded by the State Prize of the second degree for "Ten Poems on texts by Revolutionary Poets".
1. Boldly, my friends, we march on (Leonid Radin)
Smeley, druzia. idyom vperyod
2. One of many (Eugene Tarasov)
Odin iz mnogikh
3. On to the streets! (Unknown Author)
Na ulitzu!
4. Meeting on the way to exile (Aleksei Gmyrev)
Pri vstreche vo vremya peresylki
5. To those condemned to death (Alexei Gmyrev)
Kaznyonnym
6.
The Ninth of January
(Arkady Kots)
Devyatoye yanvarya
7. The shooting has grown silent (Eugene Tarasov)
Smolkli zalpy zapozdalye
8. They were victorious (Aleksei Gmyrev)
Oni pobedili
9. May Day (Arkady Kots)
Mayskaya pesn'
10. Song (Vladimir Tan-Bogoraz, after Walt Whitman)
Pesnya